---
La rénovation fait partie des travaux les plus délicats à mettre en œuvre. La réalisation d'un nouvel ouvrage sur une structure existante nécessite la prise en compte et la maîtrise globale des contraintes du site. Cette maîtrise permet de faire disparaître ou évoluer l'existant afin de créer la nouvelle architecture du projet.
ERGC possède une grande expertise et de nombreuses références dans ce domaine.
The renovation is one of the most delicate work to implement.
The realization of a new work on an existing structure requires taking into account and the overall mastery of the constraints of the site.
This mastery makes it possible to make the existing disappear or evolve in order to create the new architecture of the project.
ERGC has great expertise and many references in this area.
---
Réhabilitation et extension du Palm Beach (Terrassement, fondations spéciales, gros œuvre) à Cannes (06) en 2023 - 23.500.000 €
Rehabilitation and extension of the Palm Beach (earthworks, special foundations, structural work) in Cannes (06) in 2023 - € 23,500,000

---
Gros œuvre, carrelages, VRD pour restructuration et extension de l'EHPAD « Pin et Soleil » à Pignans (83) en 2023 - 1.428.550 €
Standing work, tiles, VRD for restructuring and extension of the EHPAD "Pin et Soleil" in Pignans (83) in 2023 - € 1,428,550

---
Rénovation du Château de Théoule sur Mer (06) en ensemble Hôtelier et Touristique en 2022 - 2.600.000 €
Renovation of the Château de Théoule sur Mer (06) as a hotel and tourist ensemble in 2022 - € 2,600,000
---
Réhabilitation et extension du musée des troupes de marine de Fréjus (83) en 2022 - 2.850.000€
Rehabilitation and extension of the Fréjus naval troop museum (83) in 2022 - € 2,850,000

---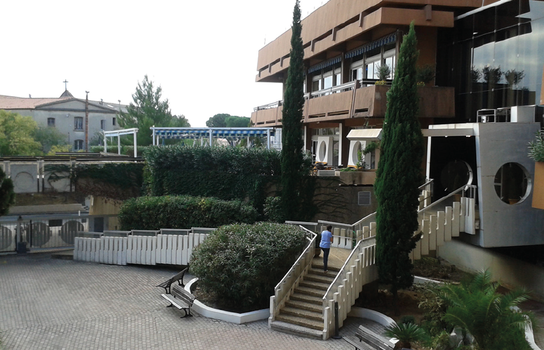 Rénovation de l'Escale Louvois (Démolition, reprise en sous-œuvre, maçonnerie et menuiserie ext.) à Toulon (83) en 2022 - 2.930.000 €
Renovation of l'Escale Louvois (demolition, recovery in underlying, masonry and carpentry Ext.) In Toulon (83) in 2022 - € 2,930,000

---
Extension et Réhabilitation d'un château à la Croix Valmer (83) en 2021 - 5.895.000 €
Extension and rehabilitation of a castle at the Croix Valmer (83) in 2021 - € 5,895,000

---
Extension et réhabilitation du restaurant Mirazur à Menton (06) en 2019 - 305.000 €
Elu meilleur restaurant du monde en 2020
Extension and rehabilitation of the Mirazur restaurant in Menton (06) in 2019 - € 305,000 
Elected best restaurant in the world in 2020
---
Surélévation et agrandissement de l'Hôtel Cristal, en plein centre de Cannes (06) en 2018
Raising and extension of the Hôtel Cristal, in the centre of Cannes in 2018
---